Caring for Your Fresh Cut Christmas Tree
Caring for Your Fresh Cut Christmas Tree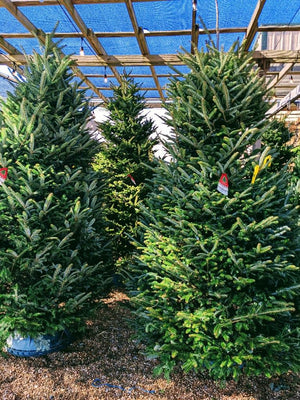 Welcome the Holiday Season with the wonderful fragrance of a Fresh Cut Christmas Tree!

At Ellis Home and Garden we proudly carry Fraser Fir Christmas Trees that are shipped to us from North Carolina. Tree sizes range from 6'-10' in height. Our Greenhouse Associates can assist you with picking the perfect tree for your home.  We are here to help you keep your tree fresh the entire Christmas season. 
Fraser Fir Christmas Trees have soft needles and they are known for their excellent needle retention, fragrance and strong branches. All of our trees have had a fresh cut made on the bottom before being placed in the tree stand filled with water. 
To keep your tree fresh, make sure to keep the tree stand filled with water. This is extremely important to the overall life of your tree. Trees can absorb as much as a gallon of water within the first 24 hours. After that, your tree will need one or more quarts of water per day. The water that your tree absorbs helps to keep the needles from drying out and falling off the tree. Water also helps the tree maintain it's fragrance.