DIY Mardi Gras Teardrop Swag
DIY Mardi Gras Teardrop Swag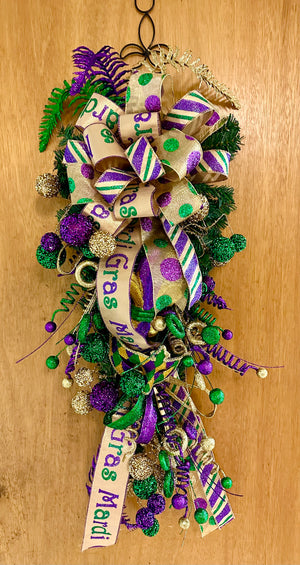 DIY Mardi Gras Teardrop Swag!
Create your very own festive door decor using the supplies and steps below
Supplies needed:
To start, gather all of the supplies needed and have them ready to go. Remove all of the price tags before starting. 
Fluff the Teardrop by pulling the branches out so that they aren't laying totally flat
Tie your bow by layering all three ribbons on top of one another. We have tied a 3 loop bow for this project. This will give you three loops on both sides of the bow. A Pro Bow: The Hand can also be used to tie this bow. You will use the floral wire to tie the bow and attach it to the top of the teardrop
Next you will want to drape a long tail of ribbon from the bottom of the bow to the bottom of the teardrop; also leaving a little excess to cut into dove tails.
Now you will want to start inserting the floral items. Insert the first Glitter Fern Spray in the very top of the teardrop behind the bow. Bend the fronds down over the top of the bow. Then insert the Mixed Glitter Spray on either side of the draped bow section. **Remember, to add a dollop of hot glue to the end of each stem before placing it in the teardrop. This will help secure the stems to make sure they don't fall out.**
Next you will cut the two Glitter Ball sprays into two sections using the wire cutters. This will give you 4 total pieces to use. Insert and glue each section to the teardrop. You will put one section on either side of the drape and then two at the bottom near the long ribbon tails.
Next you will place the Mardi Gras mask over the tie for the long ribbon tails. This will need hot glue on either end of the mask to secure it to the teardrop. Make sure to press the mask to the teardrop to help it adhere and dry securely.
Finally, you will hot glue the Fleur de Lis to the middle section of the teardrop between the two draped ribbon tails. 
Now you are ready to celebrate the Mardi Gras season with festive Door Decor!