DIY Spring Memorial Saddle
DIY Spring Memorial Saddle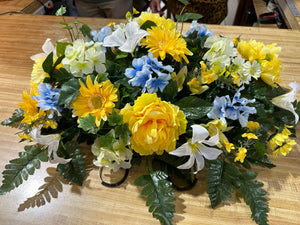 DIY Spring Memorial Saddle
Create your very own Spring Memorial Saddle using the steps below! You can use any combination of flowers to create a stunning Memorial Saddle. 
Supplies Needed:
 To start, gather all of the supplies. You will need 2 types of Greenery and 3 Floral Bushes. You can use any combination of Flowers that you would like. Before starting make sure all of the Price Tags have been removed. 
You will begin by securing the Styrofoam Block to the Saddle Frame. Place a bead of Hot Glue on each prong of the Saddle Frame and then push the Styrofoam Block down on each prong at the corners of the block.


Next, you will clip all of the stems of the Leather Leaf Fern off of the Bush and insert them one by one around the base of the Styrofoam. To secure each stem, place a bead of Hot Glue on the end of the stem before sticking it in the Styrofoam. You are essentially making a skirt for the Saddle. 


You will continue to fill in the sides of the Styrofoam with the Leather Leaf Fern and place a piece about 1/3 of the way across the Block on each ends. 


You will then clip all of your Flower Stems off of the Bush and begin randomly placing them throughout the Styrofoam. Focus on adding one stem to each side of the Styrofoam on the top and then around the sides. As you are adding Flowers you will fill in the holes that are left open. Remember to add a bead of Hot Glue to the end of every stem. 


Continue to fill in throughout the Styrofoam. You can add as many Flowers as you like. 


Once you are satisfied with the amount of Flowers on the Saddle. You can then begin clipping pieces of the English Ivy off of the Bush and placing them in the Styrofoam. Adding the wispy pieces of Ivy will give the Saddle dimension and texture throughout. 
When you are finished and happy with the final product you will have a stunning Memorial Arrangement to honor your loved ones. These steps can be used to create any Memorial Saddle using any Seasonal Flowers. The possibilities are endless.