DIY Yellow Rose Memorial Cone
DIY Yellow Rose Memorial Cone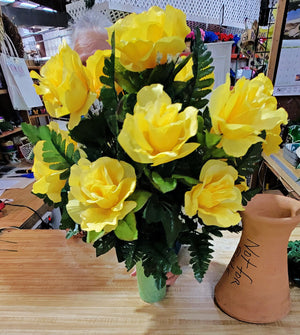 DIY Yellow Rose Memorial Cone
Designing Memorial Flowers for friends and family gives you the opportunity to continue to care for your loved one after they have passed on. This can be a great experience for us. Learning how to create Memorial Pieces gives you the freedom to create any combination of flowers and seasonal aspects that you may want to add to the piece. Create your very own Yellow Rose Memorial Cone using the steps below. You can use any combination of Flowers and Bushes to create a stunning Memorial Cone. 
Supplies Needed:
Hot Glue
Wire Cutters
Coffee Cup or Heavy Vase
To start, gather all of the needed supplies. You will need 2 Greenery Bushes and 2 Floral Bushes. You can use any combination of Flowers and Seasonal items that you would like. Before starting make sure all of the price tags have been removed. 
You will begin by placing your Styrofoam cone insert in a heavy vase or coffee cup. We use a custom made pottery vase in our stores to help anchor the arrangement while we are working on it. Unfortunatley, these are not for sale. 
Next you will need to snip about half of the end of the first bush of flowers off.
Then you will add a generous portion of hot glue to the end of the bush of flowers where you have just cut it off. 
Next, you will push the end of the bush into the center of the top of the Styrofoam. Push it into the Styrofoam until you can no longer see the thick base of the bush. Also, spread apart the stems evenly so that they aren't bunched up in the center of the arrangement. 
Next, you will clip all of the flowers off of the 2nd Bush at the base of the stem and begin placing them throughout the Styrofoam. Place a dollop of Hot Glue at the base of every stem before putting it into the Styrofoam. 
You will need to turn the vase or cup as you move along the arrangement to help keep the stems evenly spaced throughout.
Next you will clip all of the stems off of the Leather Leaf Bush and separate them by size. 
Then you will begin placing them in between the flowers. Make sure to use the longer stems closest to the center and where the flowers are the tallest. You will also need to add a dollop of Hot Glue to the end of each stem.
You will also want to turn the vase or coffee cup while you are adding the pieces of greenery to make sure that they are spaced evenly throughout. 
You will use the shorter pieces of greenery to fill in at the base of the cone beneath the lowest layer of flowers; turning the vase or coffee cup as you go. 
When you are happy with the fullness and shape of the Memorial Cone you are finished and can take your arrangement to the cemetery.