DIY Rustic Santa Boots Christmas Arrangement
DIY Rustic Santa Boots Christmas Arrangement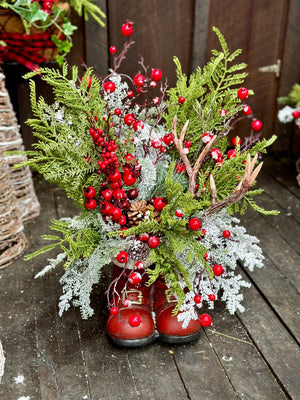 DIY Rustic Santa Boots Christmas Arrangement
This week, we're thrilled to introduce a truly unique creation by our talented floral designer, Tim. Embrace the spirit of the holidays with his delightful Rustic Santa Boots Christmas Arrangement, a whimsical masterpiece designed to infuse your home with warmth and seasonal cheer. The focal point of this arrangement is the iconic Santa boots, a unique container that can be used for multiple purposes, hold an assortment of festive greenery, vibrant berries, and charming accents. Think lush evergreen snow-covered branches, sprigs of cedar, pine cones, and crimson berries nestled within these charming boots, exuding a classic yet whimsical holiday appeal. You can create one of your very own using the steps and supplies listed below!
Supplies needed:
Wire Cutters
Knife
Hot Glue
Before you get started, make sure you have gathered all of the supplies. Remember, that you can adjust any of the florals or accents that we used in this piece to fit your personal taste. 
The first thing that you will need to do is to fill the boots with the Styrofoam block. Tim did this by cutting the piece into two and then pushed the pieces down into each side of the boots. He filled the top of the boots with the remaining Styrofoam. 
The 20" Iced Berry & Pinecone Floral Pick is the first floral that Tim added to the arrangement. He stuck the stem into the Styrofoam a little off center on the left hand side of the boots. Remember to add Hot Glue to the end of each stem before placing them in the boots. 
To give the arrangement more height, Tim added one of the Flocked Pine picks directly beside the first pick in the center of the arrangement. 
Next Tim created a skirt around the base of the arrangement using the Snow Flocked Juniper stems. Tim also added a few of these stems into the body of the arrangement.
To add more color, Tim cut apart the Red Berries Floral Spray and placed them throughout the arrangement. Remember to add Hot Glue to the end of each stem before putting it into the Styrofoam. 
For more of a Rustic flair, Tim added the Deer Antler stem to the right side of the arrangement. He cut the majority of the stem off and then added hot glue to the end before placing it in the Styrofoam.
Tim finished up this rustic arrangement by adding our favorite Cedar Spray to break up the red & white colors. 
Once you have finished adding the Cedar stems you can come to a stopping point or you can keep adding any leftover product/pieces that you might have. When you are finished you will have a gorgeous arrangement to enjoy throughout the Christmas season.