DIY Fall Magnolia Grapevine Wreath
DIY Fall Magnolia Grapevine Wreath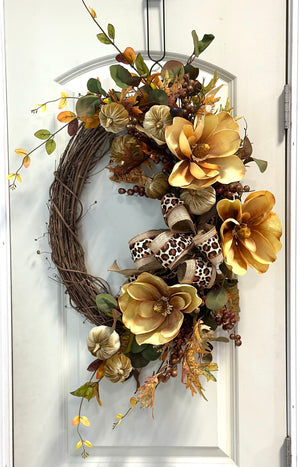 DIY Fall Magnolia Grapevine Wreath
This week we are moving into Fall Designs with this semi-monochromatic Fall Magnolia Grapevine Wreath. Tim, our Floral Designer at Fads & Frames, used three of these gorgeous Gold/Beige Magnolia Stems to create the focal of our Wreath. He used Beige Pumpkins and muted Fall Leaves to fill in the Wreath. He completed the design with a bold Burlap & Leopard Bow. You can create one of your very own using the supplies and steps listed below. As always, any combination of florals and greenery can be used to create this Wreath. 
Supplies needed:
Floral Wire
Hot Glue
Scissors
Wire Cutters
First, you will need to gather all of your supplies. Remember, that any combination of flowers and accents can be used to create this Wreath.
Next you will want to cut the majority of the Stem off of the Pinecone & Acorns Stem. We also opted to remove the Pinecones from the stem. You can leave them in the Wreath if you would like to. 
Working on the right hand side of the Wreath, we placed the first Acorns Stem into the top right section of the Wreath with the leaves facing the left. Next we cut the second and third stems and placed them also on the right hand side of the Wreath, but this time the stems were placed facing downwards. 
Next we cut a few pieces of the Fall Leaves off of the main Bush and placed them at either end of the Wreath adding length to each section.
Now we will start adding the Gold Magnolias to the Wreath. You will want to cut these a few inches below the base of the flower and then we will add them to the Wreath in the space that is between the two sections of Acorn Leaves. 
We are now going to start adding the Earth Tones Greenery. You will want to cut individual pieces of this Greenery and then place it in and around the other pieces of the Wreath. Remember to add Hot Glue to the end of each stem before placing it into the Wreath. 
Next we are going to add the Beige Velvet Pumpkins Spray. You will need to cut each stem into two sections and then place each section throughout the Wreath. We placed two sections near the top of the Wreath and then two near the bottom. 
Lastly, we are going to tie the Burlap and Leopard Bow. You will want to stack the two ribbons on top of one another and then tie a three loop bow. You can secure the bow to the Wreath using the floral wire. We placed the bow just to the left of the middle Magnolia in the center of the Wreath. 
Once your bow has been added you can come to a stopping point or you can keep adding any additional Greenery to the Wreath. You will now have a gorgeous Fall Wreath that you can enjoy all season long.