DIY Fall Mesh Teardrop Swag
DIY Fall Mesh Teardrop Swag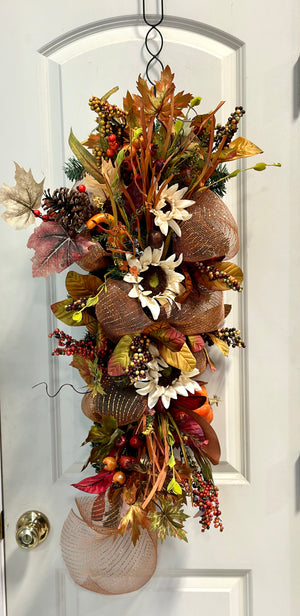 DIY Fall Mesh Teardrop Swag
This week our Floral Designer Tim, at Fads & Frames, created a gorgeous Fall Teardrop Swag using Deco Mesh and Fall Florals. You can create one your very own using the supplies and steps listed below. As always, any combination of florals and greenery can be used when making this design.
Supplies needed:
Scissors
Wire Cutters
Hot Glue
To get started, we first need to gather all of the needed supplies. Remember, that you can change any of the Florals, Mesh or Accents being used to fit your decor or preference. 
Now that we have all of our supplies we will begin by measuring out a strip of Mesh that is double the length of the Teardrop Swag. You can do this by looping the Mesh around your fingers and pulling it to the top of the swag. 
Once the Mesh is measured and cut you will want to attach the Mesh to the Teardrop. You can do this at the top by securing the Mesh with the branches off of the Teardrop. Once the top is secured you are going to tie loops onto the Teardrop going down each side of the Teardrop.
Now we will work on adding the Cream Sunflowers Spray. To start you will want to cut the stem about half way down the stem and then place the stems inside the branches of the Teardrop about halfway down. You will want to add Hot Glue to the end of each stem before placing it into the Teardrop.
Once that Spray has been added we will do the same thing to the 2nd Spray, but this time we will insert the Spray at the bottom of the Teardrop facing down. 
Now we will work on adding the accents and other florals. First we will use the Glitter Leaves Pick and add one just beneath the Cream Sunflowers on the bottom of the Teardrop. We will also add the 2nd Glitter Leaves Pick to the top of the Teardrop just behind the Cream Sunflowers.
Next we will begin adding the Magnolia Berry Floral Bush by cutting individual pieces off of the Bush and adding them to the Teardrop.
Next we will work on adding the Pumpkin & Pinecone Spray. You will want to cut these apart into three separate stems and then cut the majority of the stem off. We will then place them throughout the Teardrop using Hot Glue to secure them. 
At this point you can continue to add any leftover accents or florals that you may have or you can come to a stopping point. You will have a stunning Teardrop that you can use all Fall long.