DIY Fall Rectangle Moss Wreath
DIY Fall Rectangle Moss Wreath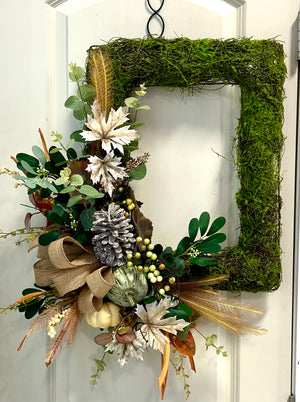 DIY Fall Rectangle Moss Wreath
This week we are creating a gorgeous Fall Rectangle Moss Wreath using muted green and cream tones. Our floral designer Tim wanted to create a unique Fall Wreath using a more monochromatic color pallet. This wreath can be hung all season long inside or outside your home. You can create one of your very own using the supplies and steps listed below. As always, you can change any of the florals or accents used in this wreath to fit your decor or personal preference. 
Supplies needed:
Wire Cutters
Scissors
Hot Glue
Floral Wire
First things first, we will need to gather all of the supplies. Remember, that you can use any combination of florals, accents or greenery that you would like. You can always follow the steps we have provided using different items to make your wreath one of a kind. 
Once we have gathered all of our supplies we will start by cutting the majority of the length off of the first Green Pumpkin Stem. Then we will insert it into the wreath on the bottom left hand corner of the wreath. We will be creating this wreath all on the left hand side. 
Next we will be cutting the majority of the length off of the Lotus Pods stem and inserting it into the wreath. We split this stem into two sections. The section with the Lotus Pod is placed above the Green Pumpkin Stem and then the section with the White Pumpkin is placed just to the right of the Green Pumpkin stem. 
Now we will start to add pieces of the Pampas Grass Stem. We cut individual sections off of the main stem and placed them in and around the other florals.
Now we are going to work on adding pieces of the Eucalyptus Greenery. We will cut individual pieces off of the main Stem and add them throughout the wreath. Remember to add a bit of Hot Glue to the end of each stem before placing it in the wreath. 
Next we will add a small three loop Burlap Bow using the 1.5" Natural Burlap Ribbon. Once you have the bow tied with floral wire you can attach it to the Wreath. We put it just on the corner of the Wreath below the Green Pumpkin Stem. 
To finish off our Greenery, we are going to add the Spring Leaves Branch. We are also going to cut sections off of the main stem and then place them throughout the wreath. 
We thought that the Wreath needed an additional pop of the muted green color so we added another Green Pumpkin stem to the left corner. 
You can now come to a stopping point or you can add any additional accents that you may have leftover. When you are finished you will have a gorgeous Wreath that you can enjoy all season long.