DIY Full Spring Florals Grapevine Wreath
DIY Full Spring Florals Grapevine Wreath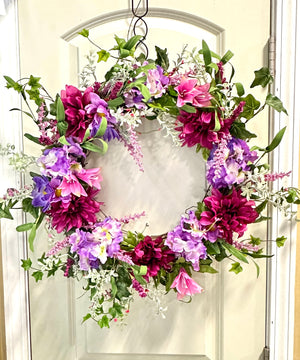 DIY Full Spring Florals Grapevine Wreath
Create a beautiful Full Spring Florals Grapevine Wreath this Spring to welcome your family and friends! This wreath can be created using the steps and supplies listes below, as always, feel free to change the florals and accents being used to your preference. 
Supplies needed:
To begin, gather all of your supplies. Remember that you can use any combination of florals and accents for this Wreath. The options are endless. 
We will start by cutting apart the Hydrangea Bush into individual stems and placing them around the wreath randomly. Remember to add a dollop of Hot Glue to the end of every stem before placing it into the Wreath. 
You will continue to place the Hydrangeas until all of them have been used
Next you will repeat the same process using the Dahlia & Hydrangea Mixed Bush. Cut each stem away from the Bush and then place it randomly throughout the wreath. The goal is to fill the entire surface of the wreath all the way around. 
Now that you have a base of florals, we will begin adding the accents that will give the Wreath texture and height. You will want to cut the base of each stem on the Astilbe Bush and begin placing it randomly throughout the Wreath. You will be looking to fill in any holes that you may have from the base flowers. 
You will want to work around the entire surface of the Wreath. Placing stems of the Astilbe Bush along the outer and insde edge of the Wreath. 
Once you have added all of the pieces of Astilbe Bush, you can start adding the English Ivy Greenery. You will want to cut individual pieces off of the Bush and add them in the same way that you added the Astilbe Bush, working around the inner and outer parts of the Wreath. 
You can judge along the way how many pieces of the English Ivy that you want to add. You do not have to add all of it. Once you are happy with the overall look of the Wreath you are finished and can enjoy it for months to come.