DIY Patriotic Moss Wreath
DIY Patriotic Moss Wreath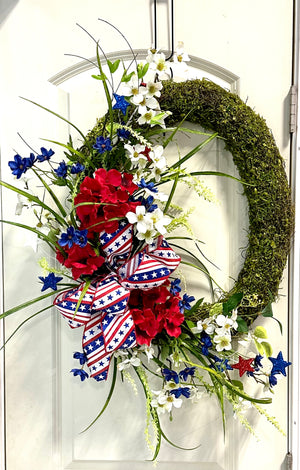 DIY Patriotic Moss Wreath
Today we will be creating a gorgeous Patriotic Moss Wreath that can be used all Summer long to celebrate all of the Patriotic Holidays. This Wreath can be created using the steps and supplies listed below, as always, feel free to change the florals and accents being used if you prefer. 
Supplies needed:
Wire Cutters
Scissors
Hot Glue
Floral Wire
To begin, gather all of your supplies. Remember that you can use any combination of florals and accents for this Wreath. The options are endless.
The first thing that we need to do will be to split the head of the Hydrangea stem into three separate flowers. You can do this by cutting the head off of the longer stem and then cutting the head into three pieces. We felt that the head of this Hydrangea was too large to use by itself, but the cutting it into three makes it much more manageable. 
We then attached the three pieces to the wreath using Hot Glue. We positioned these in the bottom left hand corner of the moss wreath, stair-stepping them along the bottom.
Next we will start cutting the pieces off of our Dogwood stem and placing them around the Hydrangeas. Remember to add a dollop of Hot Glue to the end of each piece to help secure it to the Moss Wreath. 
Next we will start cutting our Blue Cosmos stem apart into sections and then placing them among the Dogwoods and Hydrangea.
Now we want to begin adding greenery to give the wreath some dimension and height. You can start by cutting pieces off of the Rice Grass Bush. You will want to add these pieces to all sections of the Wreath by placing them behind and in between the florals that we have already added.
Next we will add our second greenery, the Mixed Leaves & Twigs Spray. This will also need to be cut apart into sections and then placed among the florals.
Now you will tie the three loop bow for the Wreath. The loops on the bow need to be about two inches and try to make sure that the bow isn't too big for the Wreath. You want to make sure that the loops don't cover the flowers. We placed the bow in between the three Hydrangea flowers and tied it on using the floral wire. 
Finally we will add the Patriotic Glitter Accent Stars. You will need to cut these into three separate pieces. We placed them in the top, middle and bottom sections of the Wreath. 
At this point you can continue to add more greenery or accents if you wish. This can also be your stopping point. You will have a wreath to enjoy all summer long!