DIY Hay Girl Hay Grapevine Wreath
DIY Hay Girl Hay Grapevine Wreath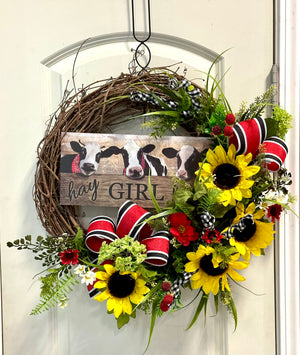 DIY Hay Girl Hay Grapevine Wreath
Today we are creating a fun and whimsical Grapevine Wreath that can be used all year long. Tim, our Floral Designer at Fads & Frames in Alexandria, LA, helped us create this unique piece using various types of artificial Florals and a fun Accent Sign. This Wreath can be created using the steps and supplies listed below, as always, any combination of florals and accents can be used to create a one-of-a-kind piece for your home.
Supplies needed:
Scissors
Wire Cutters
Hot Glue
Floral Wire
As always, to begin you will need to gather all of your supplies. Don't forget that any combination of florals and accents can be used when creating this wreath.
In our first step we will start by cutting the rope on the sign into two equal parts. You will use either side of the rope to tie the sign to the Grapevine Wreath. We positioned our sign in the upper half of the Wreath and then pushed the pieces of rope into the Grapevine to tie the rope. We then added a bit of Hot Glue to the tied off rope to secure it. You will want to cut any remaining rope off. 
Now that our sign is attached we can start working on adding the florals. We cut apart each Sunflower stem off of the Floral Bush. We also cut apart the greenery and Raspberries. We did not opt to use the Lemons in this Wreath, but they would be fine to use if you wanted to. 
We are going to start adding florals to the wreath on the right hand lower side. We are going to create a crescent shape on that lower side of the wreath. 
We are also going to work in the Greenery and Raspberry pieces throughout. 
We are going to continue adding in florals and greenery along our crescent shape. 
We are going to add a few pops of red florals by cutting our Red & White Poppy Spray apart into two sections. We will do this with both of these sprays and place them randomly throughout the Wreath. 
To add more color and texture we will cut our Black & White Curly spray apart into two sections. We placed one in the middle of the crescent shape and then one at the top. We spread the curlys apart and twisted them a bit. 
Finally we will add more Red & Black with our wide striped ribbon. We are going to create two small three loop bows to use in the top and bottom sections of our crescent. You will need to secure these with floral wire. 
Now you can come to a stopping point and enjoy your fun Wreath for months to come. We hope that you enjoyed this tutorial!