DIY Sage Green Pumpkin Arrangement
DIY Sage Green Pumpkin Arrangement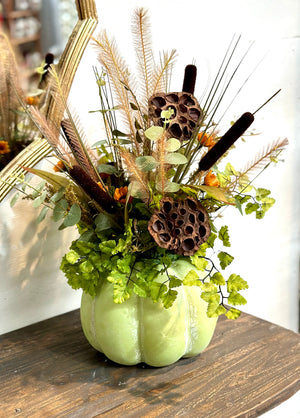 DIY Sage Green Pumpkin Arrangement
This week we are creating a Sage Green Pumpkin Arrangement that is the perfect accent for any Fall table-scape, mantel or flat surface in your home. Our floral designer, Tim, used a variety of natural elements in this arrangement that we just love. You can create one of your very own using the steps and supplies listed below. As always, any combination of florals or greenery can be used when creating this arrangement.
Supplies needed:
Knife
Wire Cutters
Hot Glue
First you will need to gather the needed supplies. Remember, that any combination of florals and greenery can be used when creating this arrangement.
To get started we are going to be cutting a hole into the top of the pumpkin and then inserting a small piece of floral styrofoam. The floral styrofoam is more dense than the foam of the actual pumpkin and will hold the stems better.
Next, we are going to cut apart our Lotus Pod Floral Bush into individual stems. Then we will place them into the foam and don't forget to add a bit of hot glue to the end of each stem.
Once the Lotus Pod stems have been added we will work on adding the Maidenhair Fern Bush. We will also be cutting the individual pieces off of the bush and then placing them in and among the Louts Pod stems. You will also want to focus on adding these to the outside edge of the styrofoam to help fill in and cover the styrofoam.
Next, we will work on adding the Eucalyptus Greenery. You will also want to cut these into individual stems so that they can be placed throughout the arrangement. We cut these at varying heights to give the arrangement some depth and texture.
Lastly, we will be cutting sections off of the Pampas Grass Spray and adding them to the arrangement. These will also add texture and height to the arrangement. Don't forget to turn your piece as you are making it; this will help ensure that there are no holes in the florals or gaps.
Once you have added all the elements you can come to a stopping point or you can continue to fill in with any leftover pieces that you may have. When you are finished you will have a simple and natural arrangement that you can use all throughout the Fall season.