DIY Spooky Halloween Teardrop
DIY Spooky Halloween Teardrop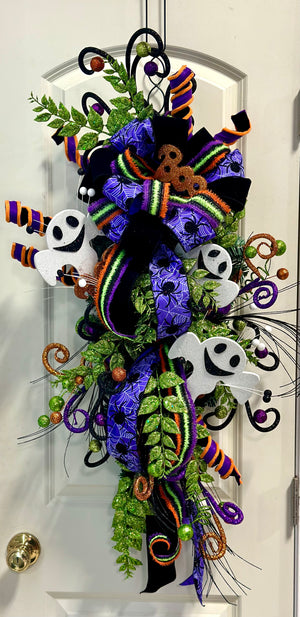 DIY Spooky Halloween Teardrop
This week we are making a Spooky Halloween Teardrop that is perfect for welcoming friends and family throughout the Halloween season. Our Floral Designer Tim uses a combination of Halloween Ribbon & Florals to create this fun and whimsical piece. You can create one of your very own using the steps & supplies listed below!
Supplies needed:
Wire Cutters

Scissors

Floral Wire

Hot Glue
First, you will need to gather your supplies. 
Once you have your supplies, we are going to start by tying a three loop bow out of the three ribbons we have selected. This is going to be a layered bow where we stack the ribbons on top of one another and then separate the loops when we are finished. We are also going to have ribbon tails that run the length of the teardrop. 
We attached the bow to the top of the Teardrop using the floral wire that we tied the bow with. Then we draped the ribbon tails down the length of the Teardrop and attached them to make bubbles at two different spots on the Teardrop. 
Now we will start adding the floral accents. We started with our first Ghost Floral Stem and cut this into two pieces. We inserted both pieces on either side of the Teardrop just under the bow. Remember to add a bit of hot glue to the end of each stem before placing it into the Teardrop. This will help secure the stem and make sure it doesn't fall out. 
Next we cut the Fabric Curly Spray into two sections. We placed one at the top of the Teardrop behind the bow and the other section behind the Ghost on the left hand side. We also cut the second Fabric Curly Spray into two sections. We placed the first piece behind the bow at the top of the Teardrop and the 2nd piece was placed near the bottom of the Teardrop on the right hand side. 
Next we added the Curly Glitter Spray to each side of the Teardrop and the bottom. 
Now we will add both of the Spiral & Ball Floral Stems to the Teardrop. We added one to the top and then the 2nd to the right hand side about half way down the Teardrop.
Next we will add the Lime Green Glittered Fern stems. You will want to cut these into several pieces and place them throughout the Teardrop. We used these to help fill in and add color throughout the Teardrop.
Finally we will add our last Ghost & Boo Stem. We cut the Boo away from the Stem and placed it in the middle of the bow. We used hot glut to attach it to the bow. We then took the last Ghost and placed him on the right side of the Teardrop. Once you have completed this step you can come to a stopping point or you can add any leftover accents that you may have.