DIY Summer Moss Hanging Basket
DIY Summer Moss Hanging Basket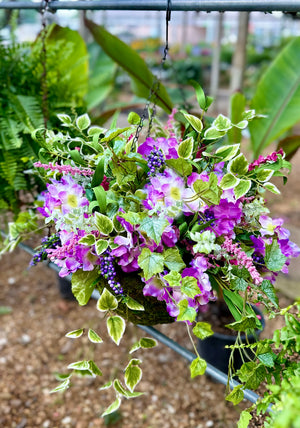 DIY Summer Moss Hanging Basket
This week our Floral Designer Tim from Fads & Frames created a stunning Summer Moss Hanging Basket using a variety of bright Summer florals in a green moss hanging basket. You can create one of your very own using the supplies and steps listed below. As always, you can adjust the florals and accents to any that you may have on hand or to your personal preference. 



Supplies needed:
Gather your supplies to get started; remember that any combination of florals and greenery can be used when creating this project. 
In the first step we will remove the plastic liner that is sewn into the edge of the moss hanging basket. If you were planting live flowers in this basket you could leave the liner, but for our purposes we will remove it. 
Next we will cut our Styrofoam block to fill the majority of the bottom of the basket. We will secure the Styrofoam to the bottom of the hanging basket with hot glue and by using the Greening Pins to stick through the outside of the basket into the Styrofoam.
To fill up the rest of the space inside the basket we will create a pyramid by stacking the Styrofoam on top of each other. You will want to secure each layer with Hot Glue. 
Now that our base has been formed we can start adding florals. You will need to cut apart the Lavender Hydrangea Bushes into individual stems. 
To add the flowers we will start by placing one in the very center of the Styrofoam and then working our way around the basket spacing out the Hydrangeas evenly. 
Next we will do the exact same thing with the Purple Berry Bush. You will want to cut these off the bush and place them throughout the basket, spacing them evenly as you go. Remember to add a dab of Hot Glue to the bottom of each stem. 
Now we will start to fill in the holes with the Astilbe Bush and the two Greenery Bushes that we picked. 
Here we have cut the Grape Leaves Ivy apart and are adding individual pieces throughout the basket. 
Now we are adding Variegated Vinca pieces that we cut off the main stem. 
We also stuck a few Variegated Vinca pieces through the basket to give the arrangement a more realistic feel. 
You can continue to fill in with remaining greenery and accent florals until you are happy with the overall shape and fullness of the basket.
When you are finished you will have a gorgeous Hanging Basket that you can enjoy all Summer long.